Mayan Puzzle:
A variant of match 3 puzzle game like no other. Includes 4 game modes (classic, time trial, challenge, marathon). The action takes place in a beautiful Mayan surrounding spiced up with a lot of special FX and original Mayan soundtrack.

Depending on the mode selected it's a mind-boggling action/puzzle game which will keep you on your feet, but it can also be a tough brain challenge in a classic/strategic mode. It's a MUST-HAVE for a serious competitor. Be the first to complete all 50 levels in classic mode.
Four different modes:
50 levels in classic (strategic) mode
4 target times in time trial mode
4 difficulty settings in challenge mode
infinite gameplay in marathon mode
Special features:
36 Mayan theme animated backgrounds
12 minutes of original Mayan soundtrack
39 achievements and online leaderboards
Hints (in case you need them)
Game Center and OpenFeint enabled
Facebook and Twitter integration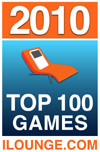 User reviews:
Darkwell-ty





One of those really addictive games and so beautifully made! I started playing and coundn't stop for hours. Just wanted to say "thank you" to the developer(s). Great job!
DivaMommyP





Challenging, addicting, mentally stimulating and fun. Great, beautiful app with great music.
Greenbaozi





Engaging gameplay and beautiful graphics. Mayan Puzzle has all you can ask from a puzzle game!
ReaderMark





This is one of the best puzzlers out there. Wonderful catchy music, beautiful backgrounds animations and easy to learn but challenging levels. I consider this a must have game.
to di flipping world





My husband and I have fun solving the puzzles together! Great game to exercise your mind. We don't even need the hints. We spend hours working at it together :) please keep the levels coming!
Lin 3339





A whole lot of fun for your brain